Student and Parent Handbook
Aftercare and Afternoon Study Hall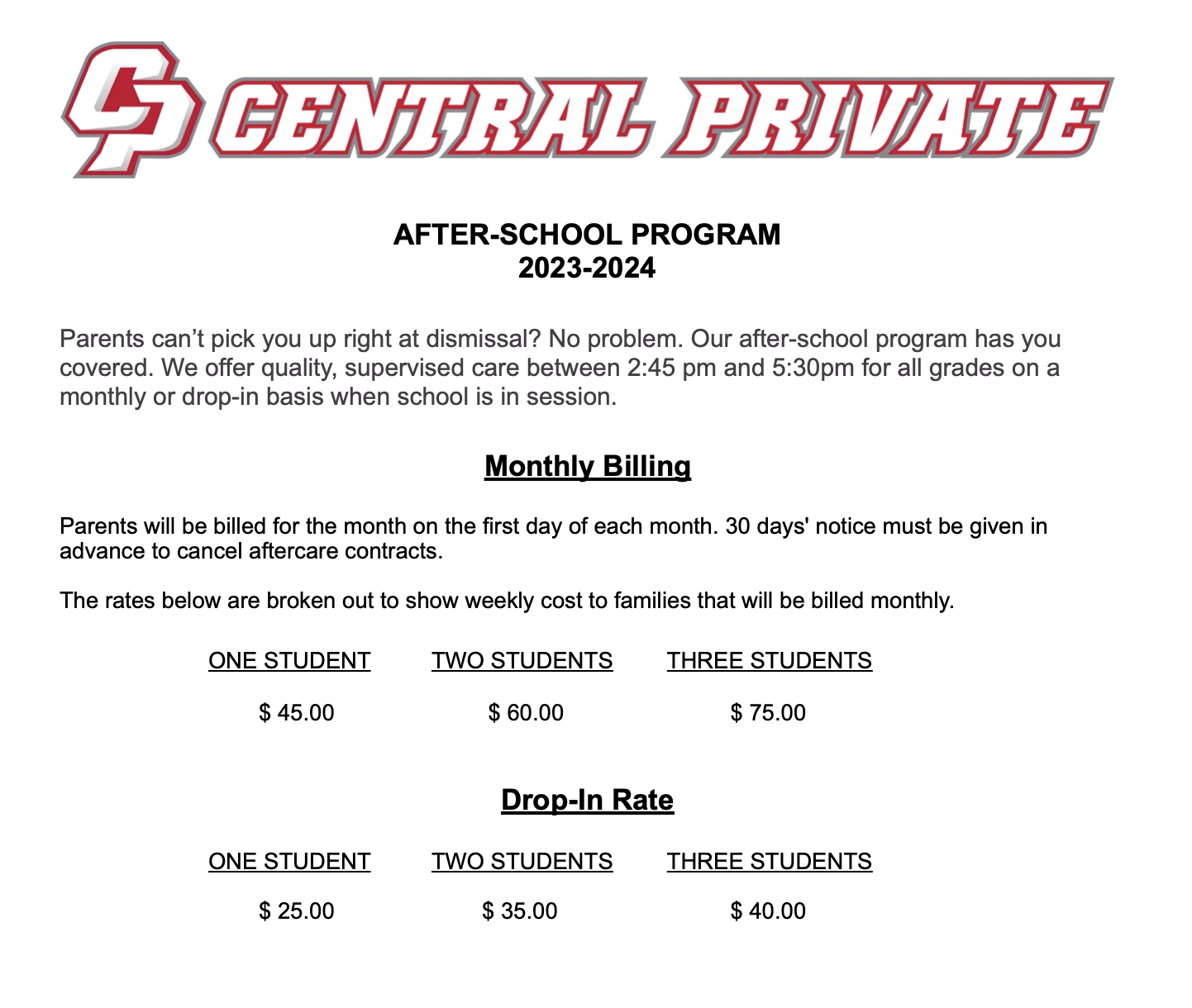 Bus Transportation
Bus transportation services are available through the Central Community School System's (CCSS) First Student. This free option is for students who reside in the boundaries of the Central Community School System may use First Student bus transportation.
Please note: this option is available for students in PreK-4 through 12th grade only.
First Student will notify parents/guardians of the bus routes and approximate pickup and drop off times. First Student may not have routes finalized for the first week of school. Please be sure to have alternate arrangements, if necessary, for this time.
Please print and return the
2023-24 Bus Request Form
to the front office. You can email a copy of your form to cp@centralprivate.org or drop it off at our Gurney Campus.
Cafeteria
Lunches are now ordered online by families. Meals must be ordered in advance for the week by Friday using the prepay account in FACTS. Funds must be available in the lunch account when placing orders. Lunch calendars are posted on the website monthly. Orders are placed on the lunch calendar web page. Click here for detailed instructions.
Students have the option to choose from a hot lunch, sandwich, or salad. Lunch orders include milk, water, or juice based on availability. Lunch prices are $5.50 (Lower School) and $6.00 (Upper School). Upper school students will also have a break option ($3.50) each day that can be ordered in the cafeteria.
Extra items are available for purchase during break and lunch. Funds must be available in your FACTS lunch account. Please note that coke products are no longer available with lunch purchases but can be purchased separately.
Carpool Information
PreK 3 - 5th Grade (Centerra Court Campus)
Morning Carpool: 7:00 AM - 7:30 AM
Start Bell: 7:30 AM
Tardy Bell: 7:35 AM
Dismissal Bell: 2:30 PM
Afternoon Carpool: 2:30 - 2:45 PM
6th Grade - 12th Grade (Gurney Road Campus)
Morning Carpool: 7:00 AM - 7:30 AM
First Bell: 7:30 AM
Tardy Bell: 7:35 AM
Dismissal Bell: 2:45 PM
Afternoon Carpool: 2:45 - 3:00 PM
ParentsWeb
ParentsWeb
is a private and secure parents' portal that will allow parents to view academic information specific to their children while protecting their children's information from others. You can see your child's grades, attendance, and homework as well as other useful information. You can also communicate with teachers and other school staff online whenever necessary. All you need is an internet-capable computer or device.
Student Vehicle Policy
Students are allowed to drive their own vehicles to and from campus. The vehicle must be registered with the school, and students MUST adhere to the campus driving policy. All student vehicles are to be registered through the Main Office by the end of August. Violations are subject to the standard fine. The cost of registering your vehicle is $35.00.
Volunteer Opportunities
Family involvement, whether it be volunteering in the classroom, providing administrative support, or lending special expertise, is essential to the strength of our community and each child's educational journey. Central Private would love to recognize our amazing families and your volunteer efforts at the school.
Service hours tracking for families and students is now available in the FACTS Family Portal. Click here for detailed instructions on how to log your hours.
Parent Teacher Fellowship: The purpose of the Central Private Parent Teacher Fellowship is to support the mission and vision of Central Private, to provide more volunteer opportunities for parents, and to help parents connect and build relationships as they serve together.