LSU School of Art 7th Annual Student Exhibition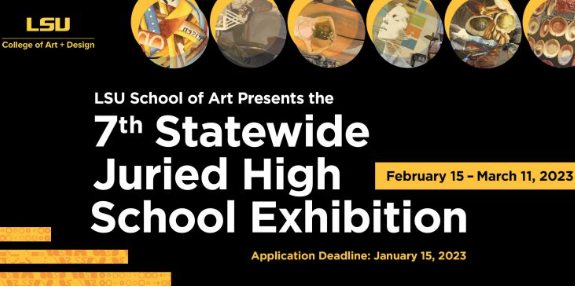 Congratulations to Allie Efferson, Central Private Sophomore, whose art has been selected for the LSU School of Art's 7th annual statewide juried art exhibition for high school artists.

The LSU School of Art—one of the region's largest and most comprehensive art schools—will showcase selected works from students representing talent from all areas of the state. The exhibition's goal is to inspire young artists by providing a platform for their work to be displayed in a professional, artistic venue, thus giving them a taste of a professional artist experience. The exhibition will be an annual offering intended to showcase Louisiana's finest artistic student talent.

This 7th annual exhibition opened February 15th and will close March 11, 2023, at the Gallery in the newly renovated Barnes Ogden Art & Design Complex on the LSU campus (Formerly the Studio Arts Building). Gallery hours are Monday-Friday, 8:30 – 4:30 p.m.
Winners will be announced, and prizes will be awarded at a closing reception for the artists on March 11, 2023
(time 1:00 – 3:00 PM)

Click https://design.lsu.edu/7th-statewide-juried-high-school-exhibition/ for more information

BACK THE BLUE 2023
Central Private's 4th Annual Back the Blue Day 2023
The Back the Blue 2023 Volleyball Tournament will be held on Thursday, April 20th, at 6PM. Students will be encouraged to wear their Back the Blue 2023 t-shirts to school on the day of the event. The front office has a sign-up sheet for students and faculty who want to play in the tournament.
Entrance costs will be $5 for adults and $1 for students. Entry is FREE for law enforcement personnel. The event is open to the public, and we encourage as many people as possible to attend this fundraising event. All proceeds from Back the Blue Day 2023 will go towards purchasing an Angel Armor vest for the police department.
BACK the BLUE 2023 T-Shirt
Social Activities
Students have the opportunity to attend three annual dances: Prom, Homecoming, & Sweetheart.
Community Service
"Love your neighbor as you love yourself" - Mark 12:31
The culture of Central Private is one that is built on leadership and service. Students are encouraged throughout the year to participate in service and charitable projects. Many of those activities extend beyond the boundaries of the campus.
Spiritual Life
"For all who are led by the Spirit of God, are children of God." - Roman 8:14
At the core of Central Private is the belief that we are called to train children up to fulfill God's purpose for their lives. Every day begins with prayer. Elementary students memorize bible verses, and students in the upper levels attend Bible devotionals every month. Themes of Christianity and faith are engrained in the very fabric of who we are as a school and community.
CP SPIRIT
ALma Mater
'Neath the oaks and trialing moss
There stands a place so fair.
Central Private sons and daughters
Long Shall gather there.
Red and Gray, how we extol thee,
Proud, strong, and free.
'Naught shall ever dim our mem'ry:
Faithfull we will always be.
---
FIGHT SONG
CP Redhawks are the best,
CPS will beat the rest,
So come on Redhawk fans and team unite,
And we will win tonight!
CPS will beat the rest,
So come on Redhawk fans and team unite,
And we will win tonight!