Central Private - Tuition Assistance
Each year, Central Private dedicates resources to assist qualifying families who may need assistance paying tuition for children entering kindergarten through 12th grade. We have selected FACTS to conduct a fair and confidential assessment of each family to determine the amount of financial need. Applications for assistance must be submitted annually through the FACTS portal.
FACTS applications take into consideration more than overall income. Allowances are made for living expenses, retirement, taxes, medical costs, certain unusual expenses and debts, and investments. Families who feel they may qualify are encouraged to apply. Because funds are limited and distributed on a first-come, first-served basis, we recommend parents apply early. Tuition assistance awards are made only after a student has received an offer of admission to Central Private.
HOW TO APPLY
FACTS application fee: $35
REQUIRED DOCUMENTS (Non-Business Applicants)
2020 W2 forms for all jobs
2019 or 2020 filed tax return – 1040, 1040A, or 1040EZ with all schedules
REQUIRED DOCUMENTS (Business Applicants)
2019 or 2020 filed business tax returns – 1120, 1120S, 1065 (if applicable)
Two [2] years prior & current year-to-date Profit & Loss statement for each business
REQUIRED SUPPLEMENTAL INCOME DOCUMENTATION (where applicable)
1099-M forms
Social Security Income
Child Support
Unemployment
Food Stamps
Veterans' Benefits
Housing Allowance
Worker's Compensation
Welfare
Additional documents requested by Central Private
ACE Scholarship Program
Students at Central Private also have the option to receive financial aid through a third-party organization called
ACE Scholarships
. Central Private does not have any affiliation with ACE scholarships. Applications and approvals are made through ACE, and then ACE works with Central Private to coordinate tuition payments.
About ACE:
The Louisiana Tuition Donation Credit Program (TDC) allows Louisiana children to receive scholarships to qualified K-12 private schools, allowing parents to choose the school that will best prepare their children for college, careers, and for life. ACE Scholarships Louisiana's K-12 scholarship program offers scholarships to qualified children on a first-come, first served basis for as long as funds are available. Scholarships are needs-based and provide a portion of a private school's tuition to families who meet the eligibility requirements as set forth by the Louisiana Department of Education.
The scholarship amounts can change each year, but for the 2021-22 school year, eligible students will receive a scholarship for $4,200 per year for grades K-8, or the full amount of tuition and fees, if tuition and fees are less than the maximum scholarship amount for the upcoming school year, and $4,500 per year for grades 9-12, or the full amount of tuition and fees, if tuition and fees are less than the maximum scholarship amount for the upcoming school year.
Eligibility requirements for an ACE scholarship are as followed:
Residency:

Your child must be a resident of Louisiana.

Prior School Enrollment - One of the following statements must be true:

Your child attended a Louisiana public school in the previous year.
Your child participated in the Louisiana Scholarship Program / Student Scholarships for Educational Excellence Program (LSP) during the previous school year.
Your child participated in the Tuition Donation Credit Program during the previous school year.
Your child will be attending kindergarten for the first time.

Your family income is less than the amount listed in the chart: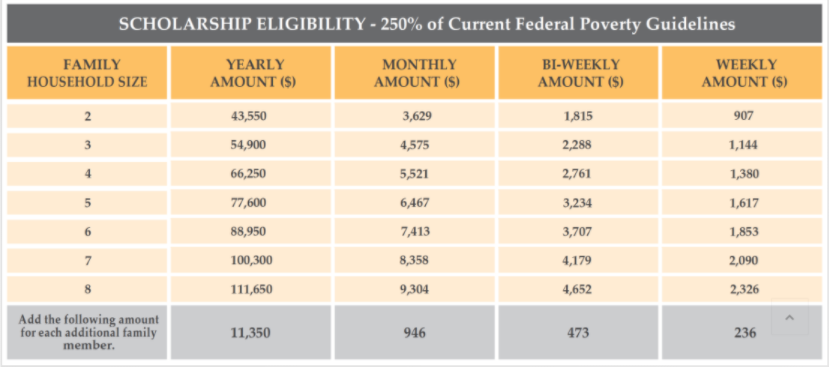 Family Requirements:
The family contributes financially towards tuition (even if it is minimal).
The family provides eligibility documentation, including residency verification, academic records and yearly financial statements, specifically the family's 1040 tax forms when applying or reapplying for the scholarship, to ensure qualifications by established deadlines.
The family agrees to release any academic information or records (including, but not limited to, midterm reports, final grades, class schedules, transcripts, test scores, and financial information) from the school they are attending.
Each year, the family writes thank you letters to ACE donors. Instructions for these letters will be provided by ACE.