Partnership Agreements
Athletic Partnership Agreements
Thank you for being a valued member of the Central Private athletic community!
Central Private is so excited to invite you to join our Athletic Partners program! As an Athletic Partner, you will contribute to an incredible cause - the development of future athletes and leaders! In return, we want to give your business maximum brand awareness in our community! The primary component of our Athletic Partners program is our corporate sponsorship.
8th Annual CPS Smokin' Guns Giveaway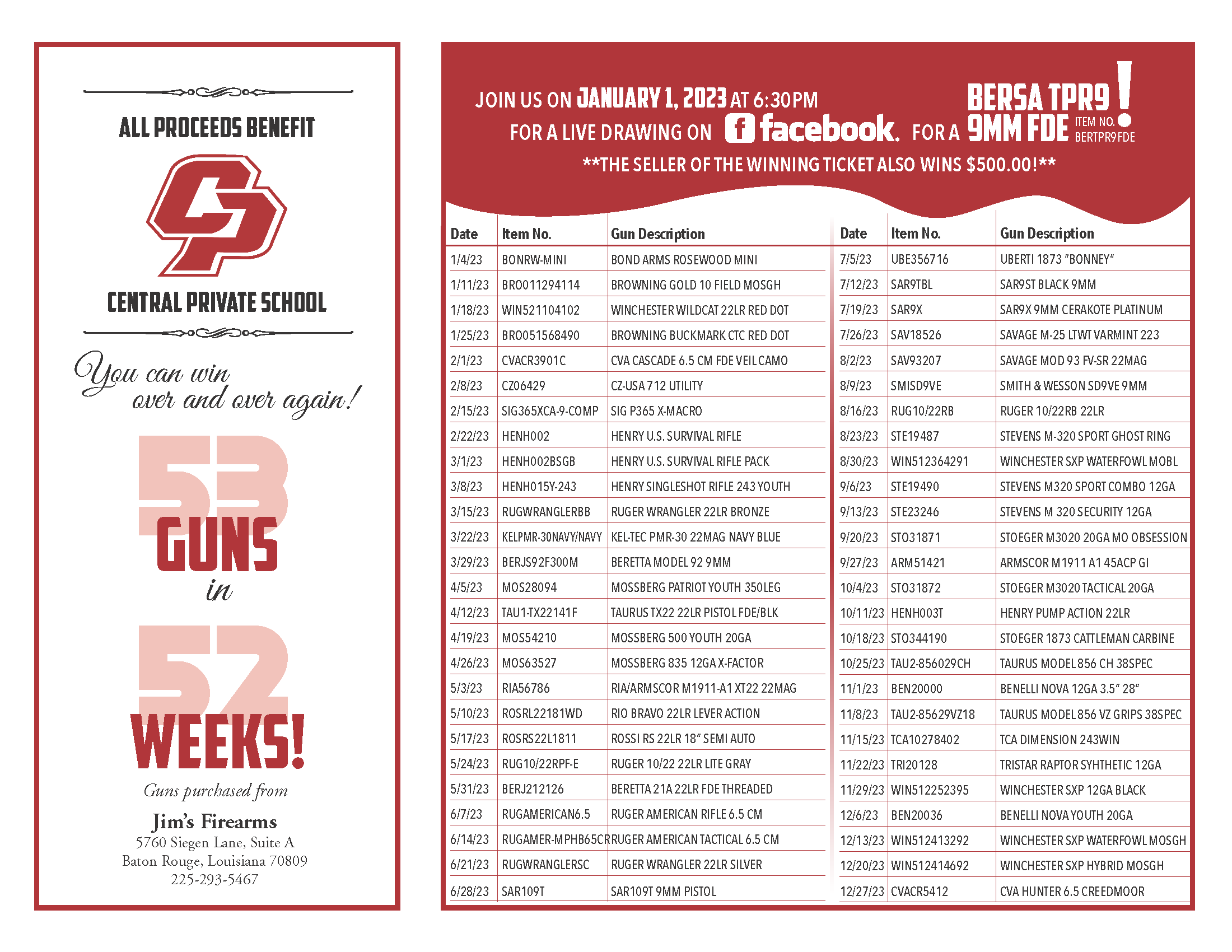 ---
WEEKLY WINNERS 2023 - CONGRATULATIONS!
01/04/2023 - #851
01/11/2023 - #906
01/18/2023 - #471
01/25/2023 - # 226
02/01/2023 - #265
02/08/2023 - #880
02/15/2023 - #812
02/22/2023 - #707
03/01/2023 - #856
03/08/2023 - #690
03/15/2023 - #283
03/22/2023 - #409
03/29/2023 - #577
04/05/2023 - #636
04/12/2023 - #499
04/19/2023 - #579
04/26/2023 - #344
05/03/2023 - #877
05/10/2023 - #664
05/17/2023 - #301
05/24/2023 - #432
05/31/2023 - #716
06/07/2023 - #108
06/14/2023 - #827
06/21/2023 - #545
06/28/2023 - #345
07/05/2023 - #295
07/12/2023 - #608
07/19/2023 - #747
07/26/2023 - #277
08/02/2023 - #390
08/09/2023 - #467
08/16/2023 - #887
08/23/2023 - #064
08/30/2023 - #418